John Schneider 1960 -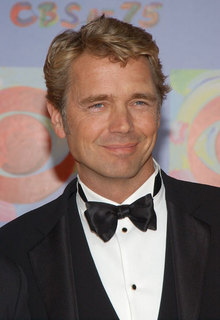 John Richard Schneider was born April 8, 1960 in Mount Kisco, New York. He stands 6' 4" tall, and graduated from North Springs High School in Atlanta, Georgia. His father is from upstate New York and his mother is from Sanford, Florida.
More recently John Schneider can be seen on several episodes of the FX Network show Nip/Tuck as Ram Peters, the CEO of an adult film company. Also, from February to March 2008, he performed as Billy Flynn in the Musical Chicago on Broadway. Schneider is also known to television audiences as Jonathan Kent, the adoptive father of Clark Kent on the hit show Smallville, starring in 100 episodes before his character was killed off. Schneider also directed episodes of Smallville, including S3E20 and Talisman, which received a respectable 8.8 rating out of 10 on TV.com. Some Smallville episodes contain references to Schneider's other work in The Dukes of Hazzard. Schneider also guest starred for the latter half of Smallville: Season 5 appearing in the episodes 'Void' and 'Oracle'
Schneider has appeared in many films and TV series such as the miniseries 10.5. He had a recurring role on Dr. Quinn, Medicine Woman and guest-starred on such shows as Diagnosis Murder, Touched by an Angel, JAG and Walker, Texas Ranger. He also appeared in the off-Broadway play The Civil War as a Confederate soldier.
Schneider has also been mentioned in other media such as South Park's episode 505 Terrence and Phillip: Behind the Blow, saying that their made for TV episode was shown instead of the very popular "John Schneider Variety Hour", an obvious joke of it being put on instead of South Park.
In 2007, he was among a series of celebrities involved in television ads for the Zaxby's restaurant chain.
During the 1980s, Schneider parlayed his success as Bo Duke with a string of country music hits. His biggest hits include: "It's Now or Never" (#4 country and #14 pop, 1981; a remake of the Elvis Presley hit); "I've Been Around Enough to Know" (#1 country, 1984); "Country Girls" (#1 country, 1985); "What's a Memory Like You (Doing in a Love Like This)" and "You're The Last Thing I Needed Tonight" (both #1 country, 1986); "At the Sound of the Tone" (#5 country, 1986); and "Love, You Ain't Seen the Last of Me" (#6 country) in 1987.
John Schneider has recorded 11 albums to date. His co-star (on The Dukes of Hazzard), Tom Wopat, also enjoyed success on the country music charts. Schneider and Wopat sang several duets on the TV series, sometimes with co-star Catherine Bach. In fact, in the season 7 DVD boxset, the trio performed a remake of the show's theme song "Good Ol' Boys" in a music video as a tribute to their friend Waylon Jennings.
Schneider became a born-again Christian after living with Johnny and June Carter Cash for a short time and speaking with Johnny about Christianity. John speaks openly about his faith in the 2007 interview with Radio Talk Show Host Drew Marshall. In 1982, he co-founded, with Marie Osmond, the Children's Miracle Network to help suffering children. In 1995, he founded FaithWorks Productions in order to produce family-oriented videos and recordings.
Both of John's parents are from a German-American background. Schneider is the father of three children: daughters Leah and Karis, and son Chasen. The latter suffers from Asperger's Syndrome; not surprisingly, as a result, John spends much of his spare time raising awareness and money for the research and treatment of said condition. He has been married twice: currently to Elly Castle (July 11, 1993–present) and was married once before to former Miss America, Tawny Elaine Godin (1983 - 1986)
Schneider recently sold his "General Lee" (Dodge Charger on Barrett-Jackson car auction) to a Markwood car dealer and collector in Hardy County, West Virginia. On March 12, 2008 John was present in Moorefield, West Virginia to sign over the car and give autographs to the local, country, Bo Duke fans.
Many articles state that John Schneider was born in 1954. The mistake branches from a lie that he told when he auditioned for his role on The Dukes of Hazzard, in which he said he was 24, while he was actually 18, because the creators were looking for actors aged between 24 to 30. On E! True Hollywood Story about "The Dukes of Hazzard" (2000), Schneider himself said that he was born in 1960 and not in 1954 as many thought he was.