Denny Miller 1934 -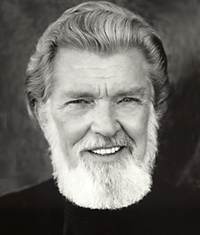 Denny Miller was born April 25, 1934 in Bloomington, Indiana and played Superman in Air Force recruiting commercials in the 1970s.
Miller was a basketball star at UCLA, where his father was a physical education instructor. In his senior year, while working as a furniture mover to pay for school, he was discovered on Sunset Boulevard by a Hollywood agent who signed him with MGM. He became the first blond Tarzan in Tarzan, the Ape Man (1959), a cheapie/quickie which lifted most of its footage from earlier Johnny Weissmuller movies. MGM had him under contract for 20 months; in that time, he worked 8 weeks as Tarzan. After that, he did guest spots on a number of TV series, finally becoming a regular on "Wagon Train" from 1961 to 1964 as character "Duke Shannon". In 1965-6, he starred with Juliet Prowse in Mona McCluskey (1965).
Miller guest-starred on Gilligan's Island in 1964 as "Duke Williams" in episode "Big Man on Little Stick", and in 1967 as "Tongo the Ape Man" in episode "Our Vines Have Tender Apes." He would also guest-star on another Sherwood Schwartz production, The Brady Bunch, in 1973 as Carol Brady's egomaniacal high-school boyfriend "Tank Gates" in the episode "Quarterback Sneak".
He has also starred as "Wyoming Bill Kelso" in the Peter Sellers movie The Party, as the clone (Theta-class life form) Ser 5-9 on the original Battlestar Galactica series, as an alien invader in the television mini-series V, and as the Gorton's Fisherman on TV ads for 14 years. All together, he starred in over 200 episodic television series.
Miller wrote an autobiography titled "Didn't You Used To Be...What's His Name?" and a book about the obesity problem in the United States called "Toxic Waist?...Get To Know Sweat!". USA Book News selected this last book as a Finalist in the Health Category for "Best Books 2006".
In June 2006, Denny attended the first Bionicon in Tampa, Fl. He now lives with his wife, Nancy, in Las Vegas, Nevada, and teaches classes in relaxation. In September 2007, he made an appearance signing autographs at the Mid atlantic nostalgia convention in Aberdeen, Maryland.