Ray Middleton 1907 - 1984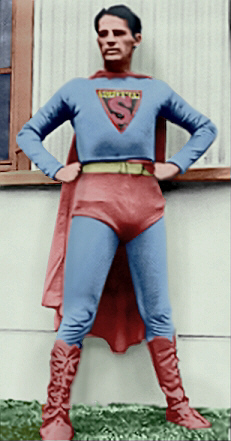 Born Raymond Earl Middleton Jr. on February 8th 1907, in Chicago, Illinois. This American actor/singer Ray Middleton spent several years in regional and New York stage productions before his first film appearance (a non-singing one) in Gangs of Chicago (1940). He might have made his film debut in 1938, the year he was being considered for the romantic lead in the Laurel and Hardy comedy Swiss Miss; however, the film's leading lady, Della Lynd, vetoed Middleton in favor of Walter Woolf King.
After starring as Superman at the New York's World Fair, Middleton went on to originate the role of Frank Butler in "Annie Get Your Gun" opposite Ethel Merman in 1946. When Ray had to hit his high notes, he braced himself against Ethel Merman for support. When he tried the same thing with Nanette Fabray in "Love Life", Nanette told him to hold on to the scenery, she was no Ethel Merman.
Most of Middleton's films were forgettable save for his starring appearance in I Dream of Jeannie (1952), an unusually lavish Republic Studios biopic about the life of Stephen Foster. In 1965, Middleton signed on to play the Innkeeper in the Broadway musical Man of La Mancha, a role he originated, and retained through six seasons and several Don Quixotes.
Despite the job security, those six years were eventful ones for Middleton. He underwent serious heart surgery during the play's run, only to return to his part stronger and in better voice than ever. And, for the first time in his life, Middleton took a bride, dancer/singer Patricia Dinnell. After La Mancha, the Middletons devoted themselves to Unitarian church activity and to Ray's one-man touring concert, America in Song and Dance. Active in TV commercials into the 1970s, Ray Middleton made a welcome screen return in the 1972 film musical 1776.
Mr. Middleton passed away on April 10, 1984 at the age of 77.