Allen Ludden
1917 - 1981

Allen Ludden was born at 4 p.m. on October 5, 1917, the first child of Elmer Ellsworth, 25, a Nebraska native living in Mineral Point and working as an ice dealer; and his wife Leila M. Allen, age 22, a Wisconsin native and housewife. Tragically, Elmer Ellsworth died the next winter, a victim of the worldwide influenza epidemic, on January 6, 1919. The death certificate gives the cause as "influenza with acute nephritis." When Allen was about five years old, Leila Ellsworth married Homer Ludden Jr., an electrical engineer and the son of H.D. Ludden, the town physician, a Chicago native who had practiced in Mineral Point since 1906. Allen was given his adoptive father's name and became Allen E. Ludden. The family lived briefly in the small Wisconsin towns of Janesville, Elkhorn, Antigo and Waupaca before moving to Texas when Allen was still a small child.

Inspired by a friend, Allen Ludden began acting in Curtain Club productions in Corpus, Christi, Texas in the summer of 1938. According to his autobiographical novel "Roger Thomas, Actor!" (Dodd, Mead & Co., 1959) it seems that Ludden discovered in college that he had less acting talent than he had hoped, and decided to aim for a career as a producer/director. An English and dramatics major at the University of Texas, he graduated Phi Beta Kappa in 1940, and received his Master of Arts degree in English from the same university in 1941. He taught English at the university and became the director of the Austin Little Theater, but only briefly. His work for radio station KEYS in Corpus Christi, was interrupted by his entry into the Army. Ludden served in the South Pacific, writing and directing stage and radio shows to entertain the GIs. Many of those shows starred Hollywood actors then serving in the military. Ludden was awarded a Bronze Star and attained the rank of Captain on March 4, 1946. In the winter of 1946-47, he became personal manager for Shakespearean actor Maurice Evans, and toured the country in advance of Evans's show "G.I. Hamlet," performed in over 500 schools and for youth groups.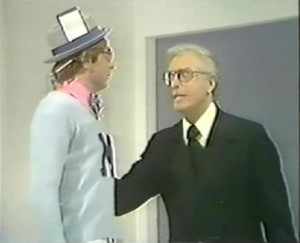 Around this time Ludden began his career as an advice-giver, addressing in particular the concerns of teenagers and young adults. Scripts written for broadcast to the U.S. Marine Corps exist in the Allen Ludden Papers. Two samples from the scripts: "Hi, this is Allen Ludden with some Plain Talk about Wedding Bells." ". . .(H)ere's some plain talk about the First Time You Date Her." In the 1950s and early '60s, at the request of the publishers Dodd, Mead & Co., Ludden would write and publish four books of "Plain Talk" advice, plus his novel, "Roger Thomas, Actor!" all for young readers.

Ludden moved to Hartford, Connecticut and got a job at radio station WTIC, where he formulated and emceed a talk show for teenagers titled "Mind Your Manners," which first aired locally in November, 1947. The show was released for the national radio networks on March 13, 1948.

Ludden, at this time, was married to the former Margaret McGloin and had three children: David, Martha Ann, and Sarah. He made a living by patching together several writing and broadcasting jobs. From late 1949 to mid-1954, Ludden wrote advice columns for teen magazines such as Fashion and Fiction Magazine (formerly titled "Calling All Girls"), Varsity, and Compact (so titled because the magazine was purse-sized), and served as the "dating consultant" for the magazine Senior Prom. He moved up a notch when he became a columnist for the monthly magazine Movie Stars Parade. His column, "Let's Talk It Over," addressed young people's questions. The first question in each column was supposedly answered by a celebrity "guest consultant." Fernando Lamas, Tony Curtis, Robert Wagner, and Audie Murphy all took a turn. Ronald Reagan wrote a guest column for the April 1953 issue. Ludden's photo appeared with each column until 1954, when the stars' photos replaced his.

Ludden's radio version of "Mind Your Manners" received a Peabody award in May 1950 as the best show on the air for young people. The television version of "Mind Your Manners" debuted on NBC on June 24, 1951, in New York City, with Ludden and a panel of five "typical teens." The final show aired March 2, 1952. Ludden had planned to syndicate a "Mind Your Manners" newspaper column; the idea is outlined in a three-page document in the Allen Ludden Papers. But the popularity of the "Mind Your Manners" concept faded. By 1954 it was again a local radio show.

Ludden summarized his financial status in a letter to Carl Eastman, his manager, on March 15, 1954:
"As of this date, I receive the following income as a performer on Radio & Television:
Mind Your Manners (WTIC) $40.00 per week
Young America (WTIC-NBC) $35.00 per week
College Quiz Bowl (MOSES-NBC) $300.00 per week
On the Carousel (WCBS-TV) $175.00
(total): $550.00"

The radio version of College Quiz Bowl, begun in 1953, would develop into the national CBS-TV game show, "College Bowl," aka "G.E. College Bowl" (after its sponsor). Although it is not clear whether Ludden alone created the show -- some sources indicate that the concept should be credited to Don Reid -- in an article in Pittsburgh Press, dated April 5, 1971, Ludden reminisced: "Ah, that game was my baby. I made it up in my backyard at Hartford. I did it on radio, I did it as a TV pilot, and four or five years later we sold it to a sponsor." Ludden was the "College Bowl"'s first host, hosting from 1959 until 1962.

Ludden's first wife died of cancer in 1961. There are conflicting stories as to how he met his second wife, actress Betty White. She was his leading lady in a summer stock production of "Critic's Choice" in 1962; some sources say that is where they met. Another story holds that they met when Betty was a guest on "Password," which debuted on national television in 1960 and rated high with viewers from its start. Allen Ludden and Betty White married in June, 1963.

The long life of the game show "Password" is well documented in television histories and by fans. The original CBS program aired weekday afternoons from Oct. 2, 1960 to Sept. 15, 1967, and, starting six months after its debut, on prime time once a week. "Password" was filmed rather than videotaped, and this allowed it to become the first TV game show to be shown as a rerun. "Password" also made Ludden a celebrity. Asked about his star status, he said modestly, "I'm just the host, the servant to the game."

From 1967 to 1969 "Password" reruns survived in syndication. By then Ludden was running his own production company. In 1969, Ludden produced a talk show, "Allen Ludden's Gallery," taping 60 episodes syndicated to 22 markets. His co-hosts were Betty White and musical director H.B. Barnum, "a black man, but he's not on this show as a token Negro. He's here because we have the right chemistry and he's talented and a good friend," Ludden told The Boston Herald Traveler (6/17/69). Ludden also said he hoped this show would attract younger viewers. It was a failure.

During the late '60s and early '70s Ludden attempted repeatedly to move beyond "Password". As Ludden told the Omaha, Nebraska Morning World Herald on April 18, 1971, "Since the 'Password' show, I've done 18 game show pilots . . .I did each one with the understanding that if I wanted to back out late, I could. I ended up doing only one -- a syndicated show 'Win with the Stars'. The others just didn't measure up to 'Password'." Ludden guest-starred on several of the era's other TV game shows, and in 1971 recorded an album for RCA ("Allen Ludden Sings His Favorite Songs") but it seems as if Ludden's fans would never embrace him in any role besides that of "Password" host.

"Password" returned to daytime network television, on ABC, in April 1971, in the slot formerly occupied by the cultish vampire soap opera "Dark Shadows," whose fans were resentful. This "Password" was disastrously revamped and retitled "Password Allstars" in December, 1974. ABC finally dropped the show in June, 1975. "Password"'s final incarnation was "Password Plus," a glitzy NBC production which Ludden hosted from January 1979 until he became ill in October 1980. Tom Kennedy took over as host, but the show seemed to require Ludden's presence, and "Password" ended for good on March 26, 1982, less than a year after Ludden's death.

Allen Ludden is buried next to his biological father, Elmer Ellsworth, in the Ellsworth plot at Graceland Cemetery in Mineral Point. A 70-acre manmade lake at the west edge of the community was named Lake Ludden in his honor.

In addition to Ludden's Password hosting duties in the 1970's, he would star as famed Daily Planet editor Perry White in 1975's television production of "It's a Bird, It's a Plane, It's Superman!". The program is highly forgetable and starred equally forgetable lead actor David Wilson as the worst ever Man of Steel.

The biography on this page is from
TV.com, & written by Catherine Rankovic.