Kristen Kreuk 1982 -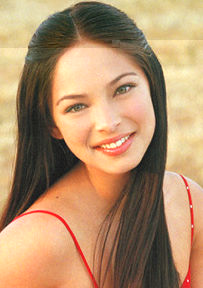 Kristin Laura Kreuk (born December 30, 1982) is a Canadian-born actress and model of Dutch and Indonesian Chinese descent known for her roles on the Canadian television series teen soap Edgemont and on the American television series Smallville in where she plays Lana Lang, Clark Kent's (Superman) girlfriend.
Kreuk was born in Vancouver, British Columbia. Her father, Peter Kreuk, is of Dutch ancestry and her mother, Deanna Che, is of Chinese ancestry but born in Indonesia; both are landscape architects. Kristin also has a sister, Justine Kreuk, who is about five years younger. She is considered a sex symbol to many people primarily because of her unusual Eurasian appearance and her dimples. Her parents and sister are all proud of her accomplishments in the acting business. Kristin took gymnastics in high school but quit in grade 11 due to scoliosis.
She had plans to study either psychology, environmental science, or forensic science at Simon Fraser University when a casting director for the CBC TV series Edgemont contacted Eric Hamber Secondary School, looking for an exotic-looking girl to play the part of a Chinese Canadian, Laurel Yeung on the Vancouver-shot show. Kreuk, who had no previous acting experience other than in musicals at her high school, was convinced to audition for the role by her drama teacher. To her surprise, she won the part.
After shooting the first season of Edgemont (a teen soap opera set at a Vancouver-area high school) and getting herself an agent, Kreuk landed the lead role of Snow White in a TV movie entitled Snow White: The Fairest of Them All. The film, shot in Vancouver, also starred Miranda Richardson and was directed by Caroline Thompson. It aired on ABC on March 17, 2002.
After Snow White, Kreuk's agent sent an audition tape to screenwriters Alfred Gough and Miles Millar, who at the time were putting together the cast of a show they had created for the WB Network entitled Smallville. The series (which was slated to be shot in Vancouver) revolves around the life of teenager Clark Kent before he becomes Superman. Gough and Millar called Kreuk to WB's studios in Burbank, California to audition for the role of Clark Kent's love, Lana Lang. Originally, Kreuk was unsure about auditioning for Lana's role, as the character was to be a popular, gorgeous and so she assumed that the part would be that of a shallow "idiot". However, upon reading the "graveyard scene" from the pilot, she was so impressed that when she was offered the role, she immediately accepted.
In 2003, Kreuk wrapped up her role on Edgemont.
Kreuk has also signed on as a spokesmodel for Neutrogena. She is thus following the footsteps of fellow teen stars Jennifer Love Hewitt and Mandy Moore in pursuing a modeling career.
In 2003, she made her first feature film role, a cameo appearance in the movie Eurotrip, starring Scott Mechlowicz and Michelle Trachtenberg. The film, shot in Prague, Czech Republic, also featured cameos by Matt Damon and Lucy Lawless. It debuted in theatres on February 20, 2004.
In the summer of 2004, Kreuk joined the cast of the Sci Fi Channel miniseries Legend of Earthsea, starring Shawn Ashmore and Danny Glover and based on the novels by Ursula K. Le Guin. Her character, Tenar, is the pupil of High Priestess Thar of the Tombs of Atuan (played by Isabella Rossellini) and also the love interest of Ashmore's character. The two-part miniseries, filmed in Vancouver, was directed by Rob Lieberman and co-produced by Lawrence Bender of Pulp Fiction fame. It aired on December 13, 2004.
In early 2005, Kreuk signed on to the independent feature film Partition. She played Naseem, a vulnerable 17-year-old whose world is shattered by the trauma of the Partition of India in 1947, but falls in love with ex-British Indian Army officer Gian Singh (played by Jimi Mistry). Neve Campbell also stars. The film is directed by Vic Sarin and is a co-production between Canada, South Africa and the United Kingdom.
In late 2005, Steve Carell (of The 40-Year-Old Virgin fame) revealed that he had approached Kreuk to play the lead female role of Agent 99 in the upcoming Warner Bros. feature film Get Smart. However, as of early 2006, there has been no confirmation from either Kreuk or her management team as to whether or not she has accepted the role.