Kirk Alyn 1910 - 1999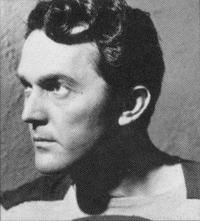 Hollywood's first "Man of Steel" was born John Feggo Jr. in Oxford, N.J. on Oct. 8, 1910. He began his show business career in New York, first in vaudeville acts and later in chorus lines under the stage name of Kirk Alyn.
Alyn went to Hollywood soon after his friend, comedian Red Skelton. There, he met another dancer and actress, Virginia O'Brien whom he later wed in 1942. After small parts in assorted B-Movies and serials, Mr. Alyn finally got his big break in 1948 when he was cast as Superman. He suddenly became the hero of a live-action movie serial, with one new chapter showing each week at Saturday matinees in movie theaters around the country and advertised on the Superman radio show. In keeping with the tradition established in the radio show, the actor who portrayed Superman was not revealed in the credits but Mr. Alyn did receive screen credit for his other role of Clark Kent.
Sam Katzman, who had made dozens of highly successful movies for Columbia, was chosen as the producer for the 1948 Superman serial and the series was directed by Spencer Bennet. The special effects scenes of Superman in flight were animated in a style similar to the Fleischer cartoons. The series was credited as being "Adapted from the Superman Radio Program broadcast on the Mutual Network."
Superman became the most popular movie serial of all time and was followed up in 1950 with another 15-chapter serial, Atom Man vs. Superman, in which Kirk Alyn again starred as the Man of Steel. The movie featured the first on-screen appearance of that brilliant scientific madman, Lex Luthor. Luthor was played by an impressively stern Lyle Talbot, who says of the series "our approach was never to kid it - this had to be for real." Atom Man vs. Superman had much improved special effects, with animated bullets bouncing from Superman's chest and live-action scenes of Kirk Alyn in flight.
Alyn loved the part of Superman but it was a role that led to disappointment. In 1951, actor George Reeves was cast in the superhero's role and later starred in the television series "The Adventures of Superman." Although he was disheartened, he later found the role had hampered his career as his films after his brief life as Superman were B-picture roles such as "Blackhawk," "G-Men vs the Underworld," "Daughter of Don Q" and "Radar Patrol." Although the role had hurt his career, Alyn would return to the Superman story in 1978, when he appeared in an uncredited role as young Lois Lane's father in the blockbuster film "Superman" starring Christopher Reeve.
Sadly, Kirk Alyn passed away on March 14, 1999. He is survived by three children he had with O'Brien - daughters Terri O'Brien of Palm Springs, Calif., and Elizabeth Watkins of Moor Park, Calif., and son John Feggo. Though he is never remembered as much for portraying Superman as George Reeves, Mr. Alyn will always be remembered as the first actor to bring the super hero to life. He was 89.