Justin Hartley 1977 -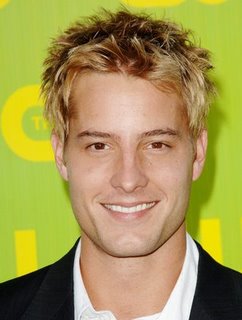 Justin Hartley was born January 29, 1977 in Orland Park, Illinois and raised with older brother Nathan and younger sisters Megan and Gabriela. An avid basketball player, he also played soccer and baseball at Carl Sandburg High School. Hartley attended Southern Illinois University and the University of Illinois at Chicago, where he majored in theatre and history.
Hartley portrayed character Fox Crane on the daytime drama Passions, from December 17, 2002 to February 10, 2006. In 2006, Hartley played the comic book character of Aquaman in a television pilot for the CW titled Aquaman (or Mercy Reef). Though it never aired, the pilot later became available online. Hartley did a seven-episode run as billionare Oliver Queen (secretly the Green Arrow) on the CW series Smallville later that year.
There is an animated micro-series called "Smallville Legends: The Oliver Queen Chronicles" on Sprint Wireless, chronicling the Green Arrow's origins as a young boy, with which Hartley has no affiliation. He was set to portray "Ben" on the new series Eight Days a Week opposite Christina Milian and Mario Lopez as a mid-season replacement but it too was cancelled before it even aired, and also reprised his role of Oliver Queen/Green Arrow on Smallville for one episode. He was scheduled to appear in a medical drama on the CW but once again, it wasn't picked up. In June 2008, The CW confirmed that Justin would be back for Smallville's eight season, this time as a regular castmember.
Hartley is the third actor to portray Aquaman, and the first to portray Green Arrow on television. In the Smallville episode, "Justice", he played Green Arrow alongside Aquaman (Alan Ritchson), the second actor to play the role when counting Gordon Goodman, who starred in the 1984 UCLA student film often erroneously described as an unsold pilot or TV movie.
In 2003, Hartley began dating his Passions co-star Lindsay Korman (who played Theresa Lopez-Fitzgerald). After six months, the two became engaged on November 13, 2003. In honor of their first date, they married in a small ceremony on May 1, 2004. They welcomed their first child, Isabella Justice, on July 3, 2004.