Michael Cassidy 1983 -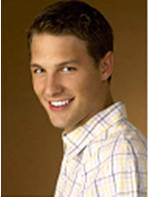 Cassidy was born March 20, 1983 and raised in Portland, Oregon before moving to New York to study for two years at the New Actors' Workshop. In 2004, Cassidy went to Los Angeles to audition for "Superman Returns." He didn't get the part, but impressed McG, then the film's director and an executive producer of "The O.C.," who cast him in the series as Zach Stevens, Summer's (Rachel Bilson) perfect boyfriend.
Familiar to television audiences from his role on "The O.C." and "Hidden Palms", Michael starred in six episodes on the 7th season of Smallville as new editor of the Daily Planet, Grant Gabriel, and love interest for Lois Lane.
Cassidy's first big-screen break was the feature film "Zoom," starring Tim Allen and Courteney Cox. Cassidy played Dylan West, a.k.a. Houdini. Other credits include the feature "The Girl From Monday," directed by Hal Hartley.
Cassidy currently resides in Los Angeles and enjoys playing golf in his down time.