Callum Blue 1977 -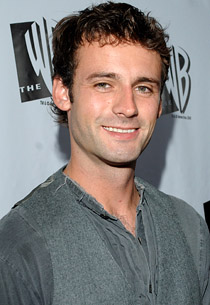 Born on Aug. 19, 1977 and hailing from London, England, Callum Blue developed into a prominent actor on both sides of the Atlantic, gaining a wealth of experience in television and film. Of his first major roles was that of Aramis, one of the three musketeers in the French-made "Young Blades" (2001). Also that year, he starred in the CBS miniseries, "In Love and War," playing real-life British soldier Eric Newby in the true story of his capture during World War II and ensuing affair with an Italian woman (Barbora Bobulova).
Blue made his biggest impression playing Mason, the tragic-comic reaper who assists in releasing the souls of those who die in the dark comedy, "Dead Like Me" (Showtime, 2003-05). After the show's cancellation, Blue played an aristocrat in "The Princess Diaries 2: Royal Engagement" (2004), then returned to regular series work on the short-lived drama "Related" (WB, 2005-06). Following an appearance in an episode of the Emmy Award-winning soap "Grey's Anatomy" (ABC, 2005- ), Blue landed the role of Knivert on "The Tudors" (2007- ), Showtime's lavish 10-part series that depicted a conflicted, but nonetheless brutal King Henry VIII (Jonathan Rhys Meyers) before his split with the Catholic Church and the beheading of his second wife, Anne Boleyn (Natalie Domer).
The CW confirms that Callum Blue, a British actor you may know from the WB's short-lived Related or Showtime's Secret Diary of a Call Girl, has been cast as Phantom Zone baddie Zod for season nine of Smallville. Blue will be a regular next year. As previously reported, Smallville's other newbie will be Brian Austin Green as baddie Metallo.