December 31, 2012: The Forgotten Supermen - Michael Fitzmaurice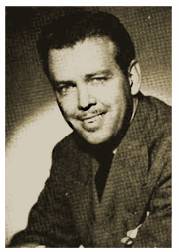 The Superman Super Site is proud to introduce a new weekly series entitled "The Forgotten Supermen" where, each Monday, we will feature an actor that has portrayed the Man of Steel in a particular form of media such as television, film, or radio.
This week's forgotten Superman is voice actor Michael Fitzmaurice who took over the lead role of Superman/Clark Kent on the "The Adventures of Superman" radio series from Clayton "Bud" Collyer on June 5, 1950 and played the role for 78 broadcasts of a revived final season.
Born April 28, 1908 in Chicago, IL, the baritone-voiced Fitzmaurice was heard often on radio dramas during the 1940s as both announcer and actor. From 1944 to 1947, he was the host of Mutual's Quiz of Two Cities. He was the announcer for Tales of Fatima, The Right to Happiness, Land of the Lost and Nick Carter, Master Detective. On June 5, 1950, he took over the title role of Superman from Clayton "Bud" Collyer, providing voices for both Clark Kent and Superman until the radio series came to an end. He was heard as Superman for a total of 78 broadcasts.
Blackhawk was a 1950 ABC radio series adapted from the long-run Blackhawk comic book about the team of adventurous World War II aviators. With Fitzmaurice portraying team leader Blackhawk, the series premiered September 13, 1950 and concluded a few months later on December 27, 1950. He also was the Hawk on the adventure serial The Sparrow and the Hawk.
Fitzmaurice was a regular on several soap operas. He played Jimmie Kent on Myrt and Marge, and he also appeared on Joyce Jordan, M.D., When a Girl Marries and Pepper Young's Family. He played Captain Bob Hastings on This Life Is MIne and Dick Grosvenor on Stella Dallas.
In addition to his radio work, Fitzmaurice was narrator of the Hearst-MGM News of the Day newsreel shown in movie theaters.
Mr. Fitzmaurice passed away on August 31, 1967.