December 4, 2012: Russell Crowe Talks Jor-El Role in "Man of Steel"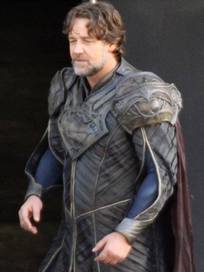 While promoting his latest film, "Les Miserables", actor Russell Crowe talked with MTV and remained on the defensive when asked about his role as Superman's biological father, Jor-El in Zack Snyder's upcoming Superman reboot, "Man of Steel." Here's what he had to say:
"Well now you're putting me on the spot, and I would be the only person in the world to talk about it if I talked about it, wouldn't I? Thanks very much for that noose around my neck. How can I say this with out getting too specific? It afforded me a wonderful job to put specific thing in the minds of 14 year old boys, and that is the bravest thing that you can do, the most important thing you can do, is love."
Check out the full video of the interview at MTV.com.
Next summer, "Man of Steel" is coming to the big screen. The film is from director Zack Snyder and producers Charles Roven, Christopher Nolan, Emma Thomas and Deborah Snyder. The screenplay was written by David S. Goyer from a story by Goyer & Nolan, based upon Superman characters created by Jerry Siegel & Joe Shuster and published by DC Comics.
Alongside Russell Crowe, "Man of Steel" stars Henry Cavill, Michael Shannon, Amy Adams, Kevin Costner, Diane Lane, Laurence Fishburne, Antje Traue, Ayelet Zurer, and Christopher Meloni.
The film opens nationwide on June 14, 2013.