December 4, 2012: Latest "Man of Steel" Poster Features Shackled Superman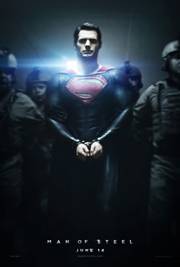 Warner Bros. has unveiled their latest teaser poster for "Man of Steel" (pictured at right) which features the film's star, Henry Cavill as Superman in handcuffs while being escorted by members of the military.
Fans that have had the opportunity to see the exclusive "Man of Steel" trailer that was featured at the 2012 San Diego Comic-Con will remember seeing this scene breifly featured along with other exclusive footage from the trailer.
Speculation is that Superman is arrested by the military at some point during the film due to his extraordinary powers and possibly being blamed for destruction that results from an attack by General Zod and his army.
There has been quite a bit of documented photos from the Plano, IL set of "Man of Steel" (which doubled as Clark Kent's hometown of Smallville, KS) that depicts not only the aftermath of large battle but a large number of members of the military as well.
At this point, it remains to be seen if this battle sequence is what results in Superman being arrested by the military and being shackled as featured in the new teaser poster. Regardless of the circumstances that cause the Man of Steel to be arrested, he obviously cooperates with his captors since it would require little effort on his part to snap a set of handcuffs in half.
"Man of Steel" stars Henry Cavill, Michael Shannon, Amy Adams, Kevin Costner, Diane Lane, Laurence Fishburne, Antje Traue, Ayelet Zurer, Christopher Meloni and Russell Crowe.
The film opens nationwide on June 14, 2013.