November 15, 2012: Superman License Plates One Step Closer to Reality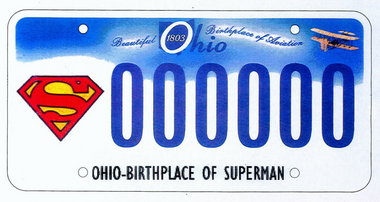 Superman fans in Ohio are one step closer to having the opportunity to adorn their vehicles with state license plates honoring the Man of Steel.
Cleveland.com reports that the bill to authorize the sale of Ohio license plates with the famous Superman insignia is closer to becoming reality after State Rep. Bill Patmon recently outlined the measure for the Senate Highways and Transportation Committee.
House Bill 339, which provides Ohio drivers more choices for specialty license plates, passed the House of Representatives unanimously and could pass the Senate before the end of the year. The committee will vote on the bill, send it to the full Senate for a vote, and then to the governor for his signature.

Patmon said he wants to make sure the plates are available in 2013, the 75th anniversary of the debut of "Action Comics" No. 1, the first appearance of Superman.

"The enthusiastic response to the proposed license plates was overwhelming," he said. "We actually had people lining up to sign the state petitions. We expect to see thousands of the S-Shield plates on the road ... maybe tens of thousands."
The license plates, which will honor Superman co-creators and former Cleveland residents Jerry Siegel & Joe Shuster, will feature the iconic slogan "Truth, Justice and the American Way." The phrase "Ohio: Birthplace of Superman" was to have originally been featured on the plates but DC Comics and its parent company Time Warner objected to the term.
Patmon added that he hopes to make the Superman plates available to out-of-state fans as well.