November 13, 2012: Zack Snyder Talks Serious Version of Superman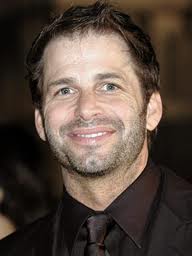 In a recent interview with Hero Complex, director Zack Snyder talked about the continuing revisions to his 2009 big-screen adaption of "Watchmen." During the course of the interview, Snyder also revealed that fans can expect a more serious version of Superman in next summers "Man of Steel." Here's an excerpt of what he had to say:
HeroComplex: That deconstruction of the genre means that "Watchmen" probably shouldn't be the first comic non-comic book fans read.
Snyder: In a weird way, it should be the last comic book people read. But the reason people say that is because of the things it deals with. These characters, Doctor Manhattan responding to the threat of cold war and nuclear weapons. These heroes ambiguously crossing lines between good and evil. How do you justify the actions these guys take? All that stuff. In that context, I think a non comic book fan is able to go, "Wow, that's not just put on the stand and it kicks ass." It becomes an intellectual exercise as well. It's funny, when Chris Nolan came to me and said "Do you want to do Superman?" I was like "No!" That's a difficult one. But I felt like I knew the rules. I understand the rules of Superman - not necessarily better than anyone else - but better than a normal filmmaker would. After doing "Watchmen" and digging that deep into the why of superheroes, when Superman is presented to you, I felt like I was in a unique position to say "I get this guy. I know what this is."

HeroComplex: How do you see "Man of Steel" fitting into this mythology now that you've made "Watchmen?"
Snyder: It's a more serious version of Superman. It's not like a heart attack. We took the mythology seriously. We take him as a character seriously. I believe the movie would appeal to anyone. I think that you're going to see a Superman you've never seen before. We approached it as though no other films had been made. He's the king-daddy. Honestly that's why I wanted to do it. I'm interested in Superman because he's the father of all superheroes. He's this amazing ambassador for all superheroes. What was it about him that cracked the code that made pop culture embrace this other mythology? What we've made as a film not only examines that but is also an amazing adventure story. It's been an honor to work on. As a comic book fan, Superman is like the Rosetta Stone of all superheroes. I wanted to be sure the movie treated it respectfully.
Next summer, "Man of Steel" is coming to the big screen. The film is from director Zack Snyder and producers Charles Roven, Christopher Nolan, Emma Thomas and Deborah Snyder. The screenplay was written by David S. Goyer from a story by Goyer & Nolan, based upon Superman characters created by Jerry Siegel & Joe Shuster and published by DC Comics.
"Man of Steel" stars Henry Cavill, Michael Shannon, Amy Adams, Kevin Costner, Diane Lane, Laurence Fishburne, Antje Traue, Ayelet Zurer, Harry Lennix, Christopher Meloni and Russell Crowe.
The film opens nationwide on June 14, 2013.