"DC Universe 10th Anniversary Collection" Bonus Content Review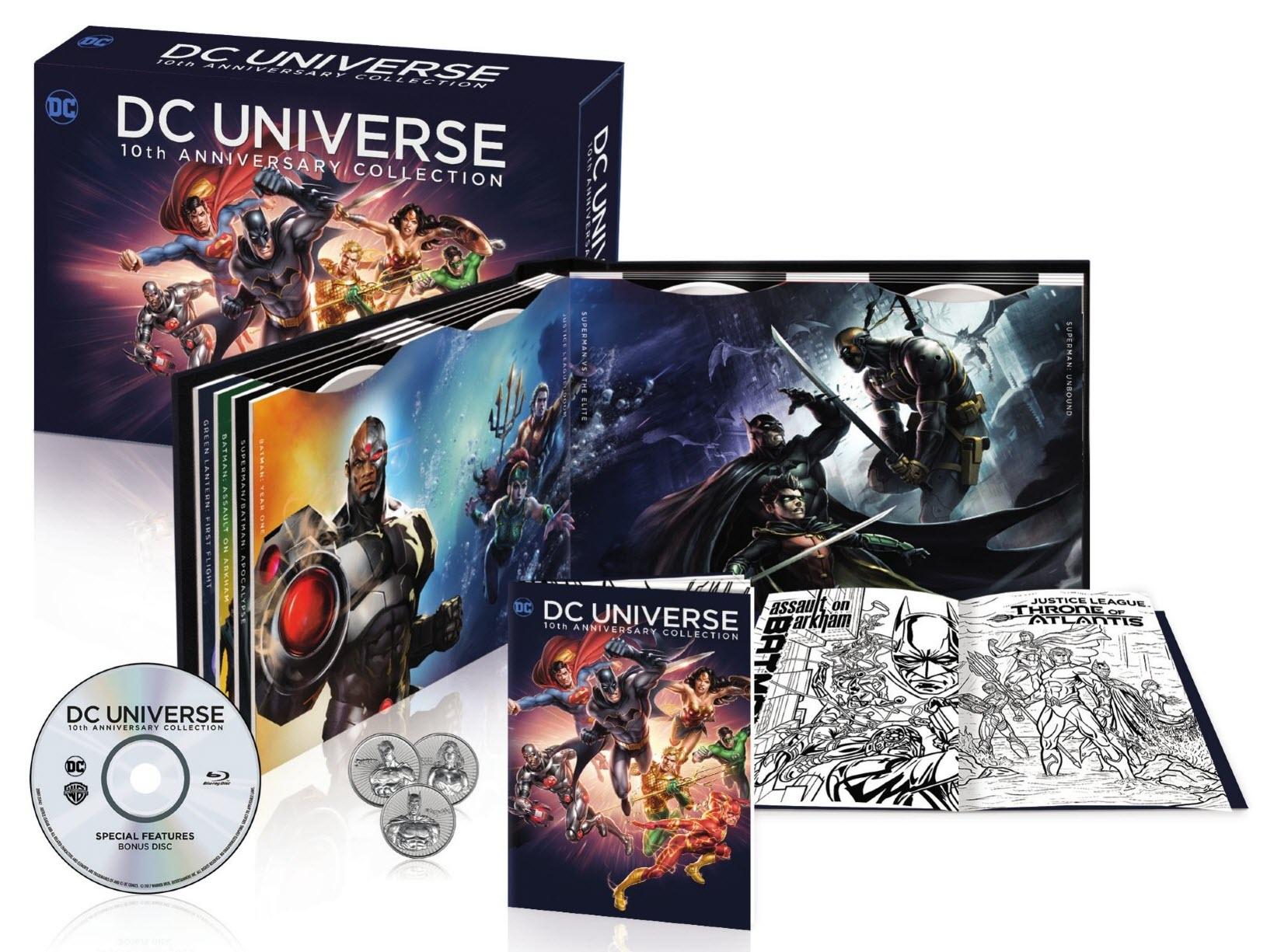 by by Neil A. Cole

Warner Bros. Home Entertainment will release the "DC Universe Original Movies: 10th Anniversary Collection" on November 7th and, in addition to all original 30 animated films, the comprehensive set will also feature a special features bonus disc.

The first featurette is entitled "The Super Human In Us All" and takes an indepth look into the lives of real life heroes that have faced life or death and the common ground they share with various characters from the DC Universe including Superman, Batman, and Wonder Woman.

Next up is a featurette which follows the history of "Justice League Dark" and the supernatural team members including John Constantine, Zatanna, and Deadman while also offerring behind-the-scenes looks at the animated film.

Legendary actor Mark Hamill is showcased next in a mini-documentary titled "Mark Hamill: Finding The Laugh" which follows his journey from portraying Luke Skywalker in the "Star Wars" films to the groundbreaking role of the iconic DC Comics villain, the Joker.

The "DC Universe Original Movies 10th Anniversary Panel" from the 2017 Comic-Con International features the filmmakers behind the 30 animated films including producers Bruce Timm & James Tucker and co-producers/screenwriters Alan Burnett & Jim Krieg. Also featured are the various multi-talented voice actors who have given life to the iconic DC Comics cast of characters over the past 10 years including Kevin Conroy, Tara Strong, John DiMaggio, Vanessa Marshall and Christopher Gorham.

Another truly inspiring panel discussion features a tribute to legendary writer and artist Darwyn Cooke who passed away in May, 2016. The panel celebrates Cooke's life through personal & professional anecdotes and the achievements & heart as well as wisdom the Eisner Award-winning artist brought to his projects and life.

Celebrating the theatrical release of "Wonder Woman" starring actress Gal Gadot, the next special feature offers a look back at the 2008 Comic-Con International panel for the original animated "Wonder Woman" movie. DC executive Gregory Noveck moderates the panel which features appearances by former DC Publisher Paul Levitz, DC Universe executive producer Bruce Timm, Wonder Woman director Lauren Montgomery, eight-time Emmy Award-winning dialogue/casting director Andrea Romano. Also featured is actor Nathan Fillion who voiced the role of Steve Trevor in the film.

Rounding out the special features are Lookbooks for "Batman: The Dark Knight Returns," "Justice League: The Flashpoint Paradox," "Batman: The Killing Joke," "Justice League: Throne of Atlantis," and "Superman/Batman: Apocalypse".

In addition to this wonderful line-up of bonus content, the 32-disc box set will also include all 5 "DC Showcase" animated shorts including "The Spectre," "Green Arrow," "Jonah Hex," "Catwoman," and "Superman/Shazam: The Return of Black Adam".

All-in-all, the bonus disc special features are a great addition to the "DC Universe Original Movies: 10th Anniversary Collection" and make this vast library of animated films an even more desirable addition to any fan's home entertainment collection.