October 13, 2013: Rare Superman Comic Heads to Auction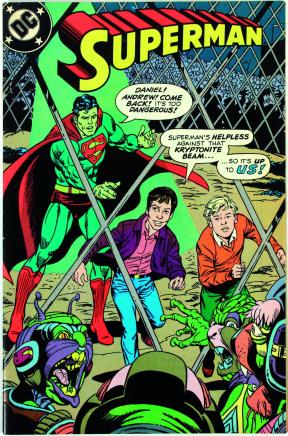 by Neil A. Cole
An extremely rare issue of Superman from 1988 entitled "This Island Bradman" is heading to auction in London.
The issue was commissioned for around £10,000 ($18,000 USD) by English property tycoon Godfrey Bradman in celebration of his son Daniel's 13th birthday (Bar Mitzvah) with copies given out to his friends to mark the occasion.
The storyline features Daniel Godfrey and Andrew Hunt (Daniel's half-brother), along with the rest of the family and Superman, being transported to an alien world to serve as entertainment. Superman is held captive in a bubble containing the Godfrey's house which is surrounded by Kryptonite beams. Both boys manage to escape from their captivity through an air duct and free the Man of Steel who returns them all home.
The issue was written by David Levin and drawn by the legendary Curt Swan with inking from Angelo Torres, who helped capture the likenesses of the Bradman family.
There are only roughly 100 copies of the "This Island Bradman" comic know to have been published by DC Comics with the one heading to auction being sold by a former employee of Mr. Bradman.
The auction will be held by Catherine Southon Auctioneers and Valuers at The Chateau in Croydon, London on November 20th.
A previous issue of the comic was sold earlier this year by Blastoff Comics in Chatsworth, CA for $5,000 to a French collector.
For more information on the auction, visit http://www.catherinesouthon.co.uk.