September 17, 2012: The Forgotten Supermen - Ron Ely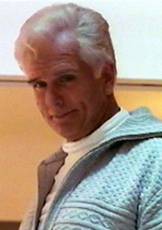 The Superman Super Site is proud to introduce a new weekly series entitled "The Forgotten Supermen" where, each Monday, we will feature an actor that has portrayed the Man of Steel in a particular form of media such as television, film, or radio.
This week's forgotten Superman is Ron Ely who played a retired Man of Steel from an alternate reality in the 1991 two-part episode "The Road to Hell" of the "Adventures of Superboy" syndicated television series.
Ely was born June 21, 1938 in Hereford, Texas and is best known to fans for his portrayal of Tarzan in the 1966 NBC series "Tarzan" and for playing the lead role in the 1975 film, "Doc Savage: The Man of Bronze."
Ely won the role of Tarzan in 1966 after playing various bit-parts, including an airplane navigator in the 1958 film "South Pacific" and a guest-starring role on Barbara Eden's first television series, the romantic comedy "How to Marry a Millionaire."
His height of 6' 4" and athletic build also won him the Doc Savage role in 1975 as well as various guest shots. In a 1978 "Fantasy Island" episode, for example, Ely portrayed Mark Antony in a Roman military short tunic and breastplate that displayed almost as much of his physique as his Tarzan costume had.
From 1960-61, Ely starred in the series "The Aquanauts." In the 1980s, he hosted the musical game show "Face the Music" as well as the 1980 and 1981 Miss America Pageants, replacing longtime host Bert Parks.
In additon to his role as the retired Superman in "The Adventures of Superboy", the 1990's brought Ely back to the Tarzan genre when he portrayed a big game hunter named Gordon Shaw in the 1992 episode "Tarzan the Hunted" of the syndicated Tarzan TV series starring Wolf Larson in the lead role.
In the mid-90's, Ely has embarked on a successful writing career and penned two mystery novels featuring private eye Jake Sands; "Night Shadows" in 1994 and "East Beach" in 1995.
In 2001, following appearances on popular TV shows such as "Sheena" and "Renegade", Ely retired from acting. Throughout the past few years, he has been known to appear at various fan conventions around the country.