September 5, 2012: Superman & Joker Join Cast of "The Dark Knight Returns, Part 2"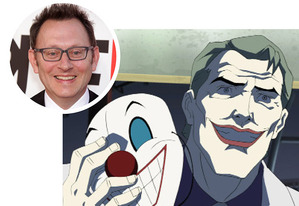 In anticipation of the September 25th release of "Batman - The Dark Knight Returns, Part 1" on Bluray and DVD, Warner Bros. Home Video is already lining up the cast of voice actors for Part 2 of the animated feature film based on Frank Miller's 1986 groundbreaking story.
TV Guide has learned that the iconic roles of both Superman and the Joker have been cast in the form of Mark Valley and Michael Emerson, respectively.
Valley is best known for his roles on multiple television shows such as Brad Chase on the TV drama "Boston Legal", Oliver Richard on the NBC drama "Harry's Law" and Christopher Chance in Fox's action/drama "Human Target." In 2013, Valley will join the cast of ABC's "Body of Proof" where he will play Det. Tommy Sullivan.
Valley's role as Superman in "Batman - The Dark Knight Returns, Part 2" marks the first time the actor has provided the voice of the Man of Steel. The film is his second venture into voice acting; he previously provided the voice of the Cyclops in the 2007 Dreamworks animated feature film, "Shrek the Third."
Providing to voice of the Joker for the very first time, Emerson is well known by fans of the critically acclaimed tv series, "Lost" for his role as the cold and calculating leader of 'The Others', Benjamin Linus. He currently stars on the hit CBS series, "Person of Interest" where he plays billionaire Harold Finch.
In speaking to TV Guide, Emerson had this to say in regard to his role as the Joker in "Batman - The Dark Knight Returns, Part 2":
"He's one of those great villains that an actor like me likes to play because he has layers — he has a face for the world and a face for himself. He is, in a way, a villain who is a natural actor. All of that is that is delightful and confounding at the same time."
Emerson and Valley join a current cast consisting of Peter Weller as Bruce Wayne/Batman, Wade Williams as Harvey Dent/Two-Face, David Selby as Commissioner James "Jim" Gordon, Michael McKean as Dr. Wolper, and Ariel Winter as Carrie Kelley/Robin.
"Batman - The Dark Knight Returns, Part 2" is scheduled to premiere in early 2013.