August 16, 2011: Plano, IL Enjoying Increased Tourism Thanks to "Man of Steel"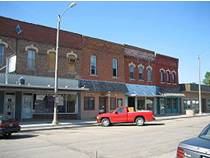 MyWebtimes.com reporter Steve Stout recently visited the town of Plano, IL which is doubling as Smallville in Zack Snyder's Superman reboot, "Man of Steel". During the course of his visit, Stout spoke with locals about the film's positive impact on the town and the increased tourism traffic it has generated. Here's an excerpt:
"It has been a very positive experience for the community," said city alderman Bob Jones. "People are coming into town at all hours just to see the sets constructed on Main Street. The local shops and restaurants are doing well and we welcome the visitors."
Plano business signs throughout the downtown area have been replaced with Smallville ones including the town's depot. "It's now Smallville City Hall for the movie," Jones said.
"The company starts filming down here on the street Monday afternoon," Jones said. "It is all very exciting for us."
The alderman said discussions are in the works about building a Superman film museum in Plano and maybe having an annual celebration like the city of Metropolis downstate sponsors each year for the world famous comic book hero.
Looking at the crowds wandering the streets, many in Superman shirts, a smiling Jones concluded, "It is nice that Plano is getting all this attention."
Read the complete article at http://mywebtimes.com.
"Man of Steel" is currently scheduled to fly into theaters on Friday, June 14, 2013.