August 3, 2017: Valerie Perrine Documentary Seeks Support from Fans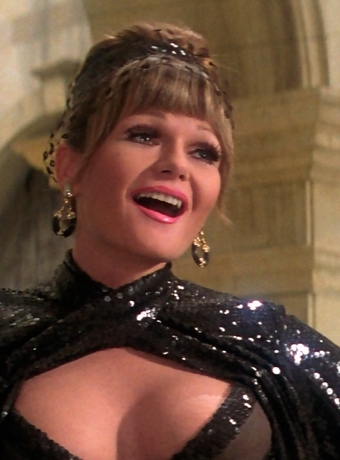 by Neil Cole

Director Stacey Souther has launched a Kickstarter campaign for his documentary "Valerie" which details the incredible life and personal battles of actress Valerie Perrine.

Perrine starred in the memorable role of Miss Teschmacher in both "Superman: The Movie" & "Superman: II" and, with the support of fans, Souther hopes to have the documentary completed by 2018 which will mark Perrine's 75th birthday and the 40th anniversary of the 1978 blockbuster film.

The Kickstarter page offers the following description of the documantary:
"A story that is by turns personal, wistful, funny, painful and transcendent — the film will explore the legacy of Valerie's life: from her beginnings as a Vegas showgirl, to winning the Cannes film festival 'best actress' award, to her inspiring battle with Parkinson's and the resulting physical disabilities. Valerie remains one of the truly immortal stars of our time. She gave phenomenal performances opposite some of the decade's most prominent leading men, including Dustin Hoffman, Jeff Bridges, Jack Nicholson, Gene Hackman and Robert Redford, as well as having worked with acclaimed directors like George Roy Hill, Bob Fosse, Sydney Pollack and Tony Richardson. She was ravishingly beautiful and her natural charisma and talent ultimately made her a superstar."
The Kickstarter campaign seeks to raise $75,000 by August 29th and includes 45 pledge levels that range from $5 to $10,000. The increasing pledge levels come with an increasing level of rare, original film mementoes from Perrine's past, such as posters, autographed photographs, artwork and more.
Many of Perrine's former Hollywood co-stars have already been interviewed for the documentary including Richard Donner, Jeff Bridges, Stacy Keach, George Hamilton, Angie Dickinson, Sarah Douglas, David Ladd, Howard Hesseman, Loni Anderson, Elliot Gould, David Arquette, Aaron Smolinski, Dick Van Patten, Jose Eber, Alex Rocco, Billy McNamara, Margot Kidder, Felipe Rose and Peggy Goldwater.
"Upon completion, we will submit 'Valerie' to film festivals and then release the film to the world," stated Souther. "Our goal is to create a riveting, 90-minute documentary intended to inspire others, no matter their challenges; to live their life fully and to go after their goals, no matter what their situation. We want to paint a portrait for her fans and highlight Valerie's venerable life."
Click here if you would like to help support the Kickstarter campaign for the "Valerie" documentary.