July 11, 2017: Couple Weds on "Superman: The Ride" Coaster at Six Flags New England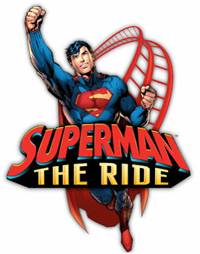 by Neil Cole

Thomas Schiller and Ashley Marchetti of North Kingstown, Rhode Island recently tied the knot on the "Superman: The Ride" roller coaster at Six Flags New England.

"Many thrill seekers and coaster fanatics have celebrated their nuptials at the park," stated Six Flags spokesperson, Jennifer McGrath. "As many newlyweds soon find out, life is the ultimate roller coaster, so there is no better place than to tie the knot than at the Coaster Capital of New England."

The couple have been fans of the popular amusement park for quite awhile and their wedding was one of the largest that Six Flags New England has ever hosted.

"Their inspiration for selecting 'Superman' for their ceremony location was sparked by their love for coasters and theme parks," added McGrath.

"Superman: The Ride" rises to 208 feet tall and, following a 220 plus foot drop, reaches a maximum speed of 77 mph while traveling along a 5,400 foot-long track.