July 9, 2017: Steppenwolf "Justice League" Action Figure Revealed in New Photo
by Neil Cole

A new photo has emerged featuring the Steppenwolf action figure from the upcoming "Justice League" toy line offering a new look at one of the primary villains from the highly anticpated film.

The photo features a clearer & completely different look for Steppenwolf than how the villain was depicted in the deleted scene from "Batman v Superman: Dawn of Justice" in which he was featured as a hologram using various Mother Boxes while interacting with Lex Luthor.

Steppenwolf is a member of Darkseid's Elite - the most powerful band of warriors on Apokolips - and is also the planet's military leader. He will be portrayed via motion-capture by actor Ciaran Hinds in "Justice League".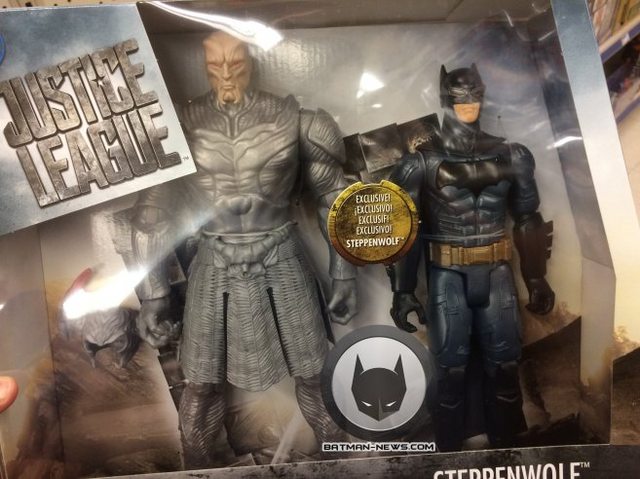 Fueled by his restored faith in humanity and inspired by Superman's selfless act, Bruce Wayne enlists the help of his newfound ally, Diana Prince, to face an even greater enemy. Together, Batman and Wonder Woman work quickly to find and recruit a team of metahumans to stand against this newly awakened threat. But despite the formation of this unprecedented league of heroes—Batman, Wonder Woman, Aquaman, Cyborg and The Flash—it may already be too late to save the planet from an assault of catastrophic proportions.
"Justice League" is directed by Zack Snyder, from a screenplay by Chris Terrio, and features an ensemble cast that includes Ben Affleck, Henry Cavill, Gal Gadot, Ezra Miller, Jason Momoa, Ray Fisher, Ciarán Hinds, Amy Adams, Diane Lane, Jeremy Irons and Jesse Eisenberg.
"Justice League" will premiere in theaters on November 17, 2017.