July 9, 2017: Vintage Superman Costume Purchased by "Ripley's Believe It or Not!" at Auction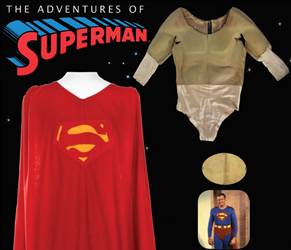 by Neil Cole

Ripley's Believe It or Not! has purchased an original Superman costume - including a red fabric cape, belt buckle, and muscled under suit - worn by actor George Reeves on the classic 1950's "Adventures of Superman" television series.

The vintage costume will feel right at home joining Ripley's Superman collection which includes a Superman cape worn by Christopher Reeve during filming of "Superman: The Movie" and "Superman: II" and a costume Dean Cain wore on "Lois & Clark: The New Adventures of Superman".

Edward Meyer, VP of Archives and Exhibits for Ripley's Believe It or Not! acquired the piece at the Profiles in History Hollywood Auction on June 28th.

Other notable items acquired by Ripley's included an original lightsaber used by actor Mark Hamill in "Star Wars" and "The Empire Strikes Back" as well as a bridge engineering console used in "Star Trek: First Contact," "Star Trek IX: Insurrection," and "Star Trek X: Nemesis".