July 9, 2013: Smallville Reunion Coming to MegaCon 2014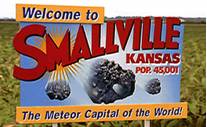 by Neil Cole
The guest list for MegaCon 2014 has begun to take shape and among the celebrities scheduled to attend are an alumni of cast members from the hit tv series, "Smallville".
Appearing at the convention will be John Glover (Lionel Luthor), Allison Mack (Chloe Sullivan), Laura Vandervoort (Kara/Supergirl) and Aaron Ashmore (Jimmy Olsen).
This will mark the first time all four co-stars have appeared together since the popular television show ended it's historic ten season run on May 13, 2011.
Other celebrity guests appearing at MegaCon 2014 include Peter Mayhew (Chewbacca - "Star Wars" Episodes III - VI), Dirk Benedict (Lt. Starbuck - "Battlestar Galactica" and Templeton Faceman Peck - "The A-Team"), and Richard Hatch (Apollo - "Battlestar Galactica") as well as Meng Chen and Mike Zapcic from the AMC tv series, "Comic Book Men".
MegaCon 2014 will take place Friday, March 21st - Sunday, March 23rd at the Orange County Convention Center located at 9899 International Drive in Orlando, FL.
For more information, visit MegaConvention.com.