July 9, 2011: Amputee Dies After Being Thrown from "Ride of Steel" Coaster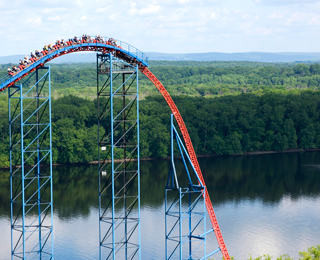 The Associated Press reports that a U.S. Army veteran who sufferred the loss of both legs in Iraq has died in an accident on the "Ride of Steel" roller coaster at Darien Lake Theme Park Resort.
According to the report, Sgt. James Thomas Hackemer was ejected from the 208-foot-tall ride early Friday evening after climbing aboard during an outing with family and friends.
The wounded veteran was missing all of his left leg and most of his right one, as well as part of a hip, and had been living at his parents' home in Gowanda following years of rehabilitation.
Darien Lake Theme Park Resort released a statement confirming a guest "came out of the Ride of Steel roller coaster" and said it was "saddened to report that the guest has passed." The park has also stated that local authorities and safety experts were investigating.
The coaster was formerly known as "Superman: Ride of Steel" prior to Six Flags selling Darien Lake to PARC Management. It is one of the tallest coasters east of the Mississippi River, climbing 208 feet and reaching speeds in excess of 70 mph.
The roller coaster and surrounding area were closed after the man's death, park spokeswoman Cassandra Okon said. Other areas of the park remained open, and patrons arrived again on Saturday morning.
"Our thoughts and prayers are with the friends and the family of the guest," she said.