July 5, 2017: Actor Jack O'Halloran Appearing at O Comic Con! 2017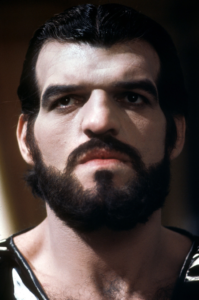 by Neil Cole

Actor Jack O'Halloran will be among the featured guests at the upcoming O Comic Con! which takes place July 7th, 8th, & 9th at the Mid-America Center in Council Bluffs, Iowa.

O'Halloran is best remembered for his starring role in "Superman: The Movie" and "Superman: II" as the mute villian Non. Prior to his acting career, he was known as "Irish" Jack O'Halloran and was a rated heavyweight boxing contender in the early 1970s.

The 6' 6" native of Runnemede, New Jersey, was considered one of boxing's most promising heavyweight hopefuls after he remained undefeated in his first 16 professional matches. O'Halloran went on to defeat former title contenders Cleveland Williams, Terry Daniels, Manuel Ramos and Danny McAlinden. In 1972 he won the California state heavyweight championship with a victory over Henry Clark. Scoring an upset victory over eighth-ranked Al "Blue" Lewis in 1973, O'Halloran was on the verge of a bout with Muhammad Ali when he was shockingly knocked out by Jimmy Summerville in Miami Beach, Florida. Even though he knocked out Summerville in the rematch, O'Halloran was never in contention again. He retired in 1974 with a record of 34-21-2 with 17 knockout victories. He lost to future heavyweight champions George Foreman and Ken Norton. Following his retirement, he launched his successful career as a character actor.

In 2011, O'Halloran published his first novel, "Family Legacy" which takes place during the explosive years of American Organized crime from the point of view of a true insider. Thinly veiled as "fiction", the book sheds new light on the Kennedy assassination, our government's partnership with the Mob, and so much more.

Visit OComicCon.com for more information on the convention.