June 22, 2011: Noel Neill Making First Appearance in Over a Year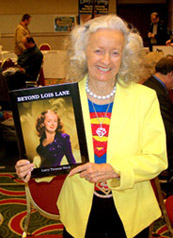 "Adventures of Superman" star and original Lois Lane actress, Noel Neill will be making her first public appearance for the first time in over a year since suffering a broken hip last July.
Ms. Neill is scheduled to appear at the Heroes & Villains comic book store in Tucson, AZ on Saturday, July 2nd for one hour only from 3pm-4pm to talk with fans and autograph Lois-Lane-related material
The Tucson chapter of the Sahuaro Girl Scout Council will present Noel with an Honorary Girl Scout membership & sash at 4pm, in recognition for her "tireless efforts to save the world"!
Says store owner Mike Camp, "Noel Neill is a living legend and an American Icon. We're honored that The First Lady of Metropolis has chosen to pay a visit to our store. The character of Lois Lane has inspired generations of fans to live up to the ideals of Truth, Justice, and The American Way and her popularity is due in large part to Noel Neill's portrayal of her."
In addition to Noel's appearance, Supergirl herself will be on hand all day courtesy of Nicky Dubbs and The Justice League Arizona.
Also, customers who purchase a copy of the new Supergirl comic book will be entered into a 6:45pm drawing to win an autographed copy of the book's script by author Kelly Sue Deconnick (Captain America & The Secret Avengers, 30 Days of Night: Eben and Stella) and a piece of original Supergirl art by the book's illustrator, Chris Cross (Superman/Batman, Blood Syndicate).
Noel is reported to be excited about the prospect of once again greeting fans and well-wishers.
Thank you to Jim Nolt for alerting us to this information.