June 11, 2010: 32nd Annual Superman Celebration Coverage - Day 2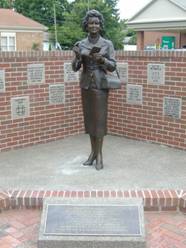 by Neil Cole
The second day of the 32nd Annual Superman Celebration started off with thunderstorms but the clouds parted and the sun came out to shine on the unveiling ceremony for the Noel Neill statue.
Metropolis Tourism Director Angie Shelton welcomed everyone to the ceremony and First United Methodist Rev. Gary Motta delivered the invocation.
Remarks were made by Metropolis Mayor Billy McDaniel, Superman Celebration co-chairs Karla Ogle & Lisa Gower, Banterra Bank President Mel Bower, statue artist Gary Earnest Smith, statue caster Kevin Maag and Noel Neill's manager Larry Ward.
Metropolis Planet Editor Emeritus Clyde Wills introduced Ms. Neill who thanked everyone for attending and spoke briefly about her career & portraying Lois Lane on "The Adventures of Superman".
With the assistance of Superman (Josh Boultinghouse), Noel removed the sheet to officially unveil the Noel Neill Statue to the cheers of everyone in attendance.
Next up was the 1st Annual Superman Super Site Meet & Greet at Dippin Dots which was a huge success with over 100 fans coming out for a great time filled with laughter, friends, wonderful door prizes and Dippin Dots discounts.
I'd personally like to thank everyone who attended and announce that we will definitely have another Meet & Greet next year!
After wrapping up things at the Meet & Greet, we headed over to the Q&A session with "Superman: The Movie" Executive Producer Ilya Salkind who spoke at length about his work on the film and the work it required to bring Superman to the silver screen.
The always popular Superman Jeapordy contest with the Rinaldi family was up next. Having never participated before, I was thrilled to be picked as a contestant and did pretty well placing third out of four.
Due to the length of the Jeapordy contest, we were unable to attend the 3rd Annual Superman Fans Baseball Game but sources have said it was yet another wonderful battle between the Metropolis Marvels & Smallville Meteors.
A visit to the Artist Alley consisted of meeting such guests as comic book legend Carmine Infantino, Curt Swan biographer Eddy Zeno and actor Jeffrey Breslauer as well as artists Trevor Hawkins & Dave Beaty.
The evening was wrapped up with a night of dancing, costumes and contests at the Fabulous 50's Dance at the Baymont Theatre.
Day 3 of the Superman Celebration will feature autograph sessions with Smallville celebrities Sam Witwer and Laura Vanderoort and Noel Neill as well as the 2010 George Awards & Auction.
Look for a full recap tomorrow evening!