May 13, 2017: "Batman v Superman" Among Top 50 All-Time Best Selling Blurays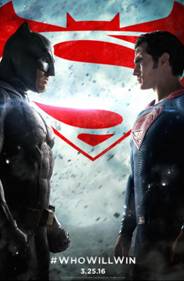 by Neil Cole

"Batman v Superman: Dawn of Justice" is now listed among the top 50 best selling Blu-ray titles of all time thanks in huge part to the Ultimate Edition release of the blockbuster film.

According to the The-Numbers which tracks the sales data for both Blu-ray and DVD releases, "Dawn of Justice" currently holds the number 48 spot with 2.32 million copies sold in the United States alone (no worldwide sales data available).

While the "Batman v Superman" was panned by quite a few critics and fans alike, the Blu-ray sales add another $53-million to the film's already massive global box office total of $873-million in sales.

Other notable superhero film entries in the top 50 list include "Man Of Steel" at #19 (3.29m copies sold), "Captain America: Civil War" at #29 (2.78m copies sold), "Iron Man 2" at #38 (2.5m copies sold), and "Guardians Of The Galaxy" at #9 (3.74m copies sold).