May 11, 2017: SyFy Orders Full Season of "Krypton" as Part of Network's Upcoming Reboot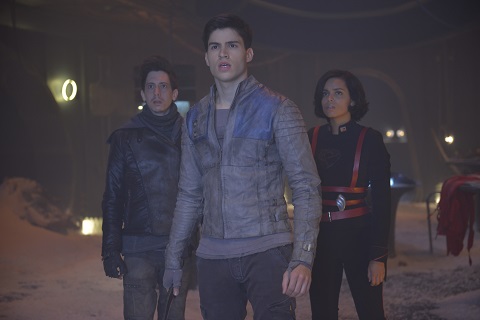 by Neil Cole

As SYFY unveils an all-new look and feel set to debut June 19th, the network today announced three additions to its powerhouse slate of original programming, including series pickups for highly anticipated Superman prequel "KRYPTON" and "HAPPY!," a graphic novel adaptation starring Christopher Meloni ("Law & Order: Special Victims Unit"). Additionally, SYFY and Universal Cable Productions announced a new development project based on author George R.R. Martin's novella "NIGHTFLYERS".

"SYFY is partnering with the biggest names in the business to tell the boldest stories in the sci-fi world, and I can't think of any bigger and bolder than "KRYPTON," "HAPPY!," and NIGHTFLYERS," said Chris McCumber, President, Entertainment Networks, NBCUniversal Cable Entertainment.
KRYPTON

Set two generations before the destruction of the legendary Man of Steel's home planet, KRYPTON follows Superman's grandfather (Cameron Cuffe, "The Halcyon") - whose House of El was ostracized and shamed - as he fights to redeem his family's honor and save his beloved world from chaos. Based on DC characters, KRYPTON is from Warner Horizon Scripted Television and is executive produced by David S. Goyer ("Man of Steel," "Batman v Superman: Dawn of Justice," "The Dark Knight" trilogy) through his Phantom Four banner. Damian Kindler ("Sleepy Hollow") will serve as executive producer and showrunner.

In addition to Cuffe, KRYPTON stars Georgina Campbell ("Broadchurch"), Elliot Cowan ("Da Vinci's Demons"), Ann Ogbomo ("World War Z"), Rasmus Hardiker ("Your Highness"), Wallis Day ("Will"), Aaron Pierre ("Tennison") with Ian McElhinney ("Game of Thrones").

The pilot teleplay was written by Goyer and Kindler, from a story by Ian Goldberg ("Once Upon a Time," "Terminator: The Sarah Connor Chronicles") & Goyer, with Colm McCarthy ("She Who Brings Gifts," "Peaky Blinders") serving as director and co-executive producer. KRYPTON is based on characters created by Jerry Siegel and Joe Shuster, published by DC.
"KRYPTON" and "HAPPY!" will join a rich 2017-18 lineup of original scripted series on SYFY, including sci-fi drama "THE EXPANSE" and fantasy series "THE MAGICIANS," both greenlit for third seasons for 2018; time travel thriller "12 MONKEYS," greenlit for third and fourth seasons for 2017 and 2018; "KILLJOYS," which returns for its third season in Summer 2017; and the "CHANNEL ZERO" horror anthology, which will return in October 2017 for its second installment.