May 4, 2017: "Superman: The Movie - Restored International Cut" Screening at Superman Celebration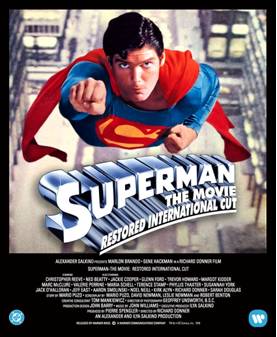 by Neil Cole

A special screening of the Restored International Cut of "Superman: The Movie" will be featured at the upcoming 39th Annual Superman Celebration in Metropolis, IL.

The 188-minute edit of the 1978 blockbuster film features scenes never shown in theaters or officially released by Warner Home Video.

These 45 minutes of extra scenes were only shown on television (in the classic TV pan-and-scan aspect ratio), and have been carefully edited together from VHS tape scans and a scan from a vintage 16mm film print, all remastered for the ultimate vintage TV viewing experience! Relive the 80's and 90's when watching movies broadcast on TV was an event.

In addition to the screening, there will also be a six-minute video presentation showcasing never-before-released "Superman: The Movie" trailers and TV spots transferred from vintage 16mm film prints in the CapedWonder Collection.

Please join host Jim Bowers of CapedWonder at this exciting presentation which takes place from 4PM - 9PM on Friday, June 9th at the Baymonth Theater.