May 4, 2017: "Bane v Superman" Fan-Film Screening in Waukesha, WI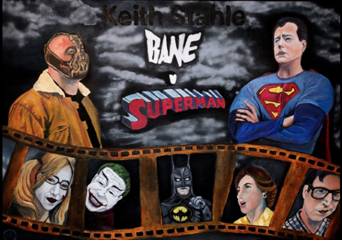 by Neil Cole

The Waukesha Civic Theatre in Waukesha, WI will present a special one-day screening of the fan-film "Bane v Superman: The Movie" on Tuesday, May 9th at 6:30pm.

Lois Lane covers a story that spans from Gotham City to Metropolis to Smallville. Bane has recently vanquished Batman while the Joker and Harley Quinn have betrayed Lex Luthor while acquiring the control to neutralize Superman's powers. Bane and Superman must now fight to the death with Lana Lang's life hanging in the balance.

"Bane v Superman: The Movie" is essentially a unique cross-section, character driven, hybrid adventure - primarily consisting of inspiration from the Richard Donner Superman movies combined with a synthesis of Tim Burton and Christopher Nolan's Batman films (with a hint of the Schumacher and Lester stuff and a bit of the first Snyder effort, not to mention Batman the Animated series and the comic books themselves).

The screening is free and open to the public with donations also being accepted. For more informtion, please visit WaukeshaCivicTheatre.org.