April 28, 2016: SKOUT Celebrates Real Life Superheroes on National Superhero Day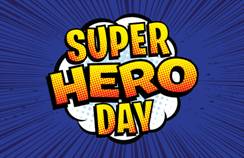 by Neil Cole

Superheroes are typically fictional characters who heroically save the day, but SKOUT, the global app that helps you meet new people and expand your social circle, is providing its community the opportunity to be real life superheroes tomorrow in celebration of National Superhero Day. On April 28, every time a Skouter gives a friend a superhero-themed virtual gift within the app, SKOUT will make a donation to Make-A-Wish® Greater Bay Area until a wish has been fully funded.

In celebration of National Superhero Day, SKOUT also recently conducted a superhero-inspired survey and found that it's not that hard to be a superhero in real life. In fact, three out of four people say that helping others in need is what makes a superhero, and nearly 80% say they want to be a superhero in real life.

"We're proud to create an opportunity for our community to use our app to fund a wish for someone who could use a real life superhero," said Christian Wiklund, co-founder and CEO of SKOUT. "Sending virtual gifts to your friends shows that you're thinking about them, but sending someone a virtual superhero gift shows you're thinking about others, too."

To download SKOUT for iOS, Android, or Windows, or to sign up online, visit www.skout.com. You can also find SKOUT on Facebook and Twitter.