April 9, 2017: Author Gwenda Bond Attending Annual Superman Celebration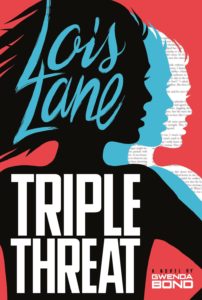 by Neil Cole

Author Gwenda Bond will be among the featured guests at the annual Superman Celebration which takes place June 8th - 11th in Metropolis, IL.

Bond writes young-adult and children's fiction. Her novels include the Lois Lane series (Fallout, Double Down, and 2017's Triple Threat), which bring the iconic comic book character front and center in her own YA novels, and the Cirque American series (Girl on a Wire, Girl Over Paris, Girl in the Shadows), about daredevil heroines who discover magic and mystery lurking under the big top. She and her husband author Christopher Rowe are also launching a middle grade series, the Supernormal Sleuthing Service, in 2017 with The Lost Legacy.

Her nonfiction writing has appeared in Publishers Weekly, Locus Magazine, the Los Angeles Times, and many other publications. She has an MFA in writing from the Vermont College of Fine Arts. She lives in a hundred-year-old house in Lexington, Kentucky, with her husband and their unruly pets. There are rumors she escaped from a screwball comedy, and she might have a journalism degree because of her childhood love of Lois Lane. She writes a weeklyish letter you can sign up for at www.tinyletter.com/gwenda. Visit her online at www.gwendabond.com or @gwenda on Twitter.

This will be Bond's first trip to the Superman Celebration which will be dedicated this year to the memory of actress Noel Neill who portrayed Lois Lane in the "Adventures of Superman" television series.

Other guests scheduled to attend this year's festival include actresses Margot Kidder (Lois Lane - "Superman: The Movie"), Sarah Douglas (Ursa - "Superman: II"), and Erica Durance (Lois Lane - "Smallville").