March 19, 2016: "Superheroes Decoded" Documentary to Air on History Channel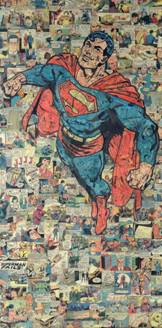 by Neil Cole

Fortifying its position as the leading brand for factual entertainment, the History Channel has greenlit more than 100 hours of original, premium documentary limited series and specials to premiere in 2017.

Among the new documentaries is "Superheroes Decoded" which reveals how the origin stories of our most iconic superheroes are the building blocks of a uniquely American mythology. This special 2-night event is equal parts fan film and informed documentary, mixing clips from present-day blockbuster films with vintage comic book artwork and historical archival to tell the surprising story of the modern era through the lens of our fictional heroes. The program features heroes and villains from both MARVEL and DC side by side, as well as commentary from creators, artists, filmmakers, famous fans, and the stars who bring these characters to life on TV and film. We'll see how the rise of the superhero parallels America's rise as a superpower in the 20th century, and how both stories continue to evolve into the future.

"Whether it's a story from our distant past or a contemporary event that will shape our collective future, HISTORY's robust new slate of documentary events will take viewers straight to the heart of epic events that shaped where we are and what we are today," said Jana Bennett, President and General Manager of HISTORY. "The network's increased focus on documentary programming, collaborating with some of the best storytellers in the genre, along with our commitment to sustainable, premium non-fiction and scripted series, will continue to drive the ongoing success of the HISTORY brand."

"Superheroes Decoded" is produced by Warrior Poets. Morgan Spurlock and Jeremy Chilnick are Executive Producers and Josh Mensch is Co-Executive Producer for Warrior Poets. Kristen Burns and Russ McCarroll are Executive Producers for HISTORY.