March 15, 2016: Massive Superman Exhibit on Display at Cleveland Library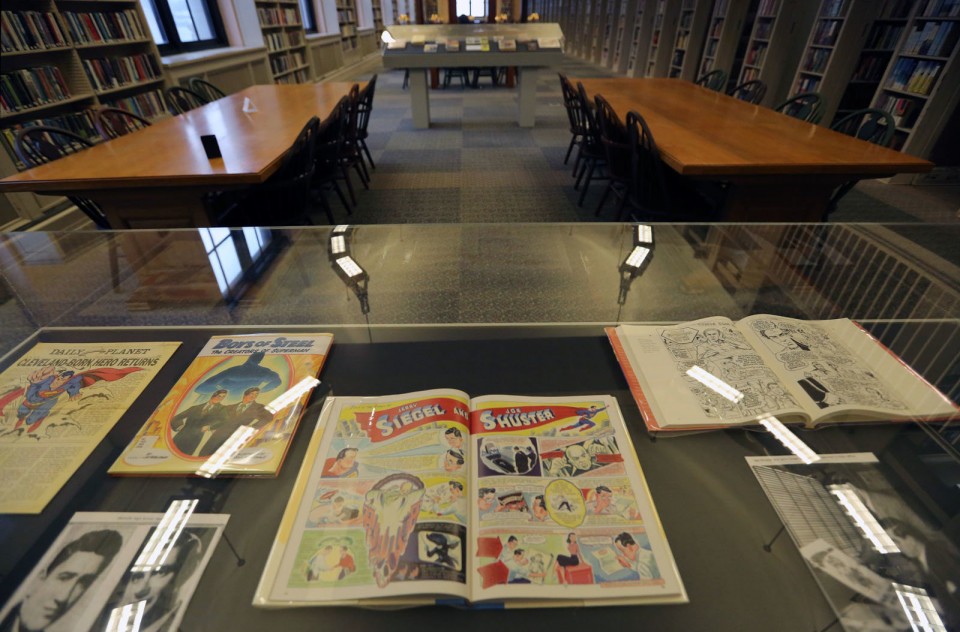 by Neil Cole

The Cleveland, Ohio Public Library will host a special eight-month-long exhibit called "Superman: From Cleveland to Krypton" beginning May 6th which will be spread out over three floors of the city's downtown library located at 325 Superior Avenue.

The exhibit will be open daily from 10:00am - 6:00pm and feature thousands of items from Superman fan Mike Curtis' personal collection related to the Man of Steel including comics, statues, posters, records, games, art, puzzles, toys, and souvenirs with some dating back to the late 1930s.

"In the center of the newly renovated Brett Hall on the first floor will be a re-created bedroom of a young boy and girl," stated Amy Dawson, manager of the library's literature department and the Ohio Center for the Book. "The room will be decorated top to bottom with Superman-related items for everyone."

Other highlights of the exhibit will include:
The prototype of the Superman statue created by sculptor by David Deming that will be placed near the Rock & Roll Hall of Fame.
Superman on the screen: a collection of photos, posters and other items commemorating Superman appearances on movies and television.
A tribute to Superman's friends and foes, including Lois Lane, Jimmy Olsen, Lex Luthor, Krypto the Superdog and others.
A section that features current comics that show the new focus on diversity. Today there are more characters of color in comics than ever in history. It is difficult to find a comic today that does not include a minority, gay or lesbian character either as the protagonist or a supporting character. There are hundreds of graphic novels with personal stories about minority, lesbian or gay characters, including some created by area writers and artists.
A Superman costume worn by Brandon Routh in "Superman Returns".
A large 5-by-8-foot painting of Superman created by 1930s pulp artist H.J. Ward. The painting hung in the offices of DC Comics in New York from 1941 to 1959. The painting was missing for many years, until it resurfaced at Lehman College in the Bronx.
In a very timely display, there will be an exhibit that examines Superman as an immigrant, born on another planet and being adopted by an Earth couple. The library is also working with former Cleveland City Councilman Joe Cimperman, now with Global Cleveland, to produce a film of Clevelanders discussing Superman's alien immigrant status.
A special kick-off event will take place at 11:00am on May 6th featuring such speakers as Brad Ricca, author of "Super Boys: The Amazing Adventures of Jerry Siegel and Joe Shuster"; Mike Olszewski, president of the Siegel and Shuster Society; Mike Curtis, donor and author of "Dick Tracy"; and Dennis Barrie & Valentino Zullo.
Laura Siegel Larson, the daughter of Jerry Siegel, will also be in attendance discussing such topics as journalism and her mother, Joanne Siegel, who inspired the creation of Lois Lane. Larson will also place a "literary landmark" in honor of Siegel and Shuster at the library.
Source: Cleveland.com