March 8, 2016: Multiple Screenings of "Batman v Superman" Featured at Utah Theater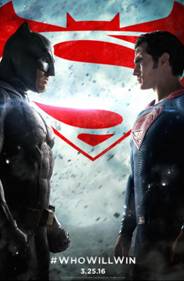 by Neil Cole

The Regal Crossroads 14 Cinema in Taylorsville, UT will feature multiple screenings of "Batman v Superman: Dawn of Justice" throughout the day on Monday, March 13th.
Fearing the actions of a god-like Super Hero left unchecked, Gotham City's own formidable, forceful vigilante takes on Metropolisís most revered, modern-day savior, while the world wrestles with what sort of hero it really needs. And with Batman and Superman at war with one another, a new threat quickly arises, putting mankind in greater danger than it's ever known before.
The screenings of the blockbuster film are part of the grand opening festivities planned for the brand new theater. Tickets are only $3.00 each with proceeds benefiting The Adoption Exchange, Taylorsville Food Pantry and Primary Children's Medical Center. Small soft drinks and small popcorns will also be available for only $3.00 each.
Screenings will take place at 12:00pm, 3:45pm, 7:00pm, and 10:15pm. For more information, please visit RegMovies.com.