February 16, 2012: Kristin Kreuk Returns to CW for "Beauty & the Beast"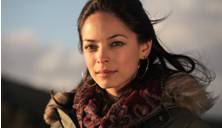 Deadline reports that former Smallville star, Kristin Kreuk will star in the upcoming CW pilot, "Beauty & the Beast" which will be loosely based on the 1980's tv series starring Linda Hamilton.
CWís Beauty And The Beast is described as a modern-day romantic love story with a procedural twist. It centers on Catherine (Kreuk), a tough-minded NYPD homicide detective haunted by witnessing her motherís murder nine years ago and the killersí quick demise at the hands of a Beast. After years of searching, Catherine finally finds the Beast, Vincent Koslow, the survivor of a military experiment that went disastrously wrong, and becomes the protector of his secret life as a superhero.
Gary Fleder will direct the pilot which was written by Jennifer Levin and Sherri Cooper who will also serve as executive producers.
Kreuk portrayed Lana Lang on the hit series 'Smallville' for seven seasons. Her other acting credits include a guest appearance on the NBC dramedy 'Chuck' and the lead role in "Street Fighter: The Legend of Chun Li."