Warner Bros. World Abu Dhabi Auditioning Superhero Performers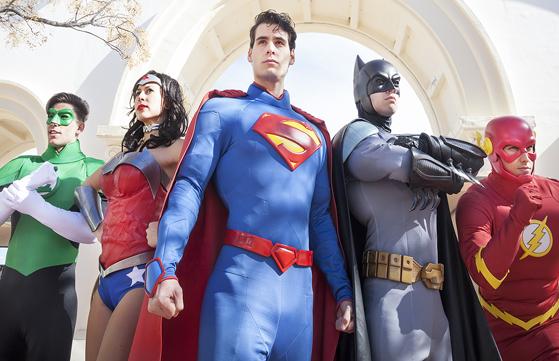 by Neil Cole

Warner Bros. World™ Abu Dhabi, the world's first-ever Warner Bros. branded indoor theme park, has announced that it will host its local open auditions for face and costume characters on Yas Island, Abu Dhabi. The UAE auditions, which are set to take place from February 26 to 27, will mark the end of a world tour to recruit enthusiastic and highly energetic talent to bring Warner Bros.' iconic stories to life at the park. Open to male and female performers over the age of 19, hopefuls will have a chance to play fan-favorite DC and Warner Bros. Animation characters - including Batman, Superman, Wonder Woman, Tom and Jerry, Scooby-Doo and many more.

William Da Silva, Entertainment Director at Warner Bros. World Abu Dhabi, commented: "After a world tour spanning seven cities across four different continents - including New York, London and Johannesburg - we are thrilled to be hosting our final round of auditions in Abu Dhabi – home of Warner Bros. World Abu Dhabi! The talents selected to authentically represent our characters at the park will be pivotal in the success of our immersive live entertainment shows and unique face-to-face guest interactions."

"We're promising guests of Warner Bros. World Abu Dhabi a truly unparalleled experience, and we are incredibly excited to give local and regional talent a chance to be part of our story through the upcoming auditions," continued Da Silva.

The local search, which expects to draw in hundreds of aspiring actors, dancers and character performers from across the region, will welcome ideal candidates who are charismatic and outgoing, as well as some that may require a background in dance and stunt performance.

Face character and costume character auditions will take place at Ferrari World Abu Dhabi on February 26 and 27 respectively, running from 10 AM until 5 PM on both days. For more information including, prospective applicants are encouraged to visit www.farahauditions.com.

When it opens its doors to the public later this summer, Warner Bros. World Abu Dhabi will be one of the world's largest indoor theme parks featuring a total of 29 state-of-the-art rides, interactive family-friendly attractions and unique live entertainment across six fully immersive lands including Metropolis, Gotham City, Cartoon Junction, Bedrock, Dynamite Gulch, and Warner Bros. Plaza.

From the action and adrenaline-fueled adventures of DC to the wacky and wonderful world of Warner Bros. Animation— Warner Bros. Worldwill offer captivating and interactive experiences that bring together some of the world's most iconic characters and stories under one roof for the first time in the region. Stay tuned for more exciting information on the park's six uniquely themed lands, as well as details on the opening date and more.