February 8, 2013: Will Beall's "Justice League" Script Rejected?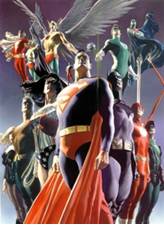 by Neil A. Cole
Screenwriter Will Bealle's script for the big-screen adaption of the Justice League appears as though it has been scrapped by the studio.
According to a report by BadassDigest.com, sources have indicated that Warner Bros. are not pleased with the "Gangster Squad" scribe's first draft and that the whole Justice League movie may fall apart and ultimately never happen.
Another recent report indicated that the entire fate of the film being made would depend solely on the success of director Zack Snyder's reboot of the Superman film franchise, "Man of Steel."
If everything goes as planned and "Man of Steel" is the blockbuster hit Warner Bros. is hoping for, "Justice League" would hit theaters during the summer of 2015 which would put it in direct competition with Marvel's sequel to "The Avengers."
A director for "Justice League" has yet to be hired but a few individuals have been reportly sought after such as the Ben Affleck (who denied any involvment on the project), Christopher Nolan, Brett Ratner, and the Wachoski siblings. Meanwhile, the list of League members rumored to be primarily featured in the film are Batman, Superman, Wonder Woman, Green Lantern and The Flash.
Previously, director George Miller ("Mad Max", "Happy Feet") was in the process of developing a Justice League movie in 2007 with a script by Kieran and Michele Mulroney. The film was set to star D.J. Cotrona as Superman, Armie Hammer as Batman, Adam Brody as Barry Allen/The Flash, rapper Common as John Stewart/Green Lantern, Australian model Megan Gale as Diana Prince/Wonder Woman.
Warner Bros. ultimately shut down the project in 2008 citing a lack of tax breaks and the writer's strike as the main reasons it pulled the plug.
Read the complete BadassDigest.com article here.