DC Universe Online to Celebrate Superman's 80th Anniversary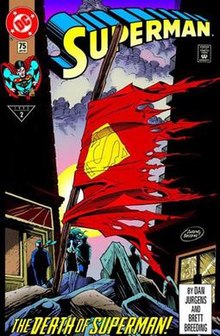 by Neil A. Cole

In celebration of Superman's 80th Anniversary, the massive multiplayer online game DC Universe Online will play host to a months long retelling of the epic 1992 comic book storyline involving the Man of Steel's death at the hands of Doomsday.

NEW CELEBRATION: SUPERMANíS 80TH ANNIVERSARY

80 years ago, in May of 1938, Superman first appeared in Action Comics #1. The world of comics would never be the same, and all of todayís massive cast of heroes and villains owe their inspiration at least in part to the Man of Steel.

Over the years, there have been tremendous Superman storylines, but perhaps none stand out so clearly in our minds as his battle and death at the hands of Doomsday. For our part, DCUO will celebrate Supermanís 80th anniversary with content: our retelling of the death of Superman.

Beginning in April, a series of content and player gifts will tell that story Ė in our world Ė and with our heroes and villains playing their parts. This isnít an episode or an event or a seasonal. This is a celebration, and we invite everyone to come along for the ride.

"DOOMSDAY is coming. A Doomsday like you have never seen. Like the Justice League has never seen," writes SJ Mueller, DC Universe Online Creative Director. "This monster is an unstoppable force. It may be that not even Superman can stop him this time. Can you?"

THINGS TO KNOW ABOUT SUPERMANíS 80TH ANNIVERSARY CELEBRATION:
This celebration will be a series of new, free content additions, available to all players.
The content will retell our version of the classic DEATH OF SUPERMAN storyline, in the world of DCUO.
New and returning Superman-family characters will appear, including Superman, Lois Lane, Doomsday, and more.
The celebration will launch new player rewards, including new gear, styles, base items, and feats.
SUPERMANíS 80TH ANNIVERSARY CELEBRATION will launch free for all players beginning this April on PC, PlayStation 4, and Xbox One.