January 27, 2013: Superman Musical Coming to New York City Center Stage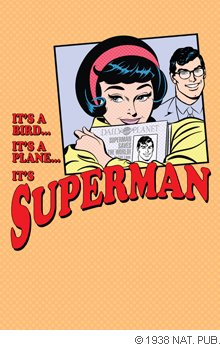 The New York City Center will feature a production of the Broadway musical, "It's a Bird, It's a Plane, It's Superman!" from March 20th - 24th as part of their 'Encores! Great American Musicals in Concert' series.
The musical's plot revolves around Superman's efforts to defeat Dr. Abner Sedgwick, a ten-time Nobel Prize-losing scientist who seeks to avenge the scientific world's dismissal of his brilliance by attempting to destroy the world's symbol of good. Additionally, Superman comes into romantic conflict with Max Mencken, a columnist for the Daily Planet newspaper, who resents Lois Lane's attraction to Superman.
The original musical production was written by David Newman and Robert Benton and debuted on Broadway at the Alvin Theatre on March 29, 1966. The production starred Bob Holiday as Superman, Patricia Marand as Lois Lane, and Jack Cassidy as Max Mencken, the evil Daily Planet columnist. It was the first Broadway musical based on a comic book.
Although campy and somewhat dated, many of the songs are catchy. Despite some favorable reviews, the musical didn't catch on and closed on July 17, 1966.
The New York City Center is located on West 55th Street, between 6th and 7th Avenues in midtown Manhattan. Tickets for the Superman production are currently on sale and start at $30 each.
For more information, visit http://www.nycitycenter.org.
Promotional Commercial