January 10, 2013: Warner Bros. Wins Major Victory in Superman Legal Battle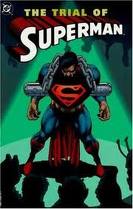 The Hollywood Reporter reports that an appeals court has awarded Warner Bros. a blockbuster victory in their on-going legal battle with the estate of Superman co-creator, Jerry Siegel. Here's an excerpt from the article:
On Thursday, the 9th Circuit Court of Appeal decided that a lower court was wrong to deny Warner Bros. subsidiary DC Comics' contention that it had a deal in 2001 with the estate of Superman co-creator Jerome Siegel. As a result, a federal judge's 2008 ruling to allow the Siegel estate to recapture Superman rights is about to be wiped out.

The decision follows a ruling by a federal judge in October to deny the estate of Superman's other co-creator Joseph Shuster the ability to recapture its own portion of the Superman copyright. That was another win for Warner Bros.

Together, the decisions mean that Warners can exploit the Superman franchise without fear of substantial legal hassles from the estates of Shuster and Siegel. That's significant because Warner Bros. is preparing to release this summer's big-budget Man of Steel, directed by Zack Snyder and produced by Christopher Nolan.
The legal victory basically cements Warner Bros. ownership of Superman and paves the way for the studio to continue making films and other projects based on the iconic character.
"Today's ruling vindicates DC Comics' long-held position that it entered into a binding agreement with the Jerry Siegel family in 2001," said a Warner Bros. representative in a statement. "The Court's decision paves the way for the Siegels finally to receive the compensation they negotiated for and which DC has been prepared to pay for over a decade. We are extremely pleased that Superman's adventures can continue to be enjoyed across all media platforms worldwide for generations to come."
Marc Toberoff, attorney for the Siegel Estate, has yet to issue a statement on the appeals court ruling. The only possibility of the case continuing at this point would be the option of submitting an appeal to the United States Supreme Court.
Read the complete article at http://www.hollywoodreporter.com.